FG XR6 Turbo - First Round Mods: 290-330rwkw range
"The internal combustion engine is an engine in which the combustionof a fuel(normally a fossil fuel) occurs with an oxidizer (usually air) in a combustion chamber" –wikipedia
Now the Golden Rule is: The more fuel and air you can safely force into an engine the more power you will make.

The key word here is "safely" and although there is risk involved in taking any engine above stock power there are nurmerous ways to minimise this risk. Having said that, below you will find details on the most common way to get your FG XR6 Turbo to around 290-330rwkw and beyond.

*Note this is just a guide, feel free to do your own research.
Modifying your 08-11 FG XR6 Turbo to
290-330RWKW Approx
CPU
When modifying your XR6 Turbo the first thing you will need is a
Flash Tuner
. This is the device that is used to "tweak" the cars factory cpu in order to updrgrade performance. These can range from $500 to $1000, one of the main Flash tuners used at the moment is the X3 Flash tuner seen below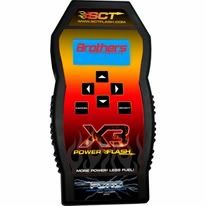 *Please note the X1Flash tuner is now obsolete and should be avoided.
Injectors
The factory injectors are one of the first limiting factors on the FG 's being good for only around 250rwkw max, these will need to be upgraded pretty much straight away not only to increase power but also as a safety precaution to prevent the engine from leaning out due to lack of fuel supply.
Two common brands are the Siemens 60lb injectors and the Bosch 968's both around the $350 mark and good for around 350rwkw's.

Valve Springs
Although valve springs arn't really a performance modification as such they are an important safety measure when trying to make more power.
The FG XR6 Turbos have acquired the upgraded HD valve springs from the F6 engines so they should be ok at this level, SHOULD being the operative word. But again these are really just cheap insurance rather then another unnecessary cost so if you got the funds it would be worth upgrading to some stronger Atomic or Nizpro springs.And for around $400 it's allot cheaper then a new engine.
Fuel Pump
Ok back to performance mods and back to the golden rule. To make more power you need higher volumes of fuel pumped into your engine which means a bigger fuel pump. Quite simple really. The FG fuel pumps should be ok at this leavel, Most tuners agreeing that they can flow enough fuel to max out the stock turbo. But if you want to upgrade the WALBRO GSS series seems to be one of the most common used and is around the $130 mark.

Ported Wastegate and Bigger Flapper
The stock FG turbo is good for around 320rwkw before it runs out of puff. Porting the waste gate and installing a bigger flapper might not be necessary but will bring boost need down and help your turbo spool quicker so you might want to ask your tuner what they think before going ahead.This should cost you around $600 change over not including installation.
Actuator
The actuator is used to control boost levels produced by the turbo and to prevent over boosting. You should base the size of your actuator on how much boost you wish to run.
High Flow Cat
The FG exhaust has been designed pretty well and is almost able to flow enough to make your 320rwkw's, the only thing limiting it's potential is the factor catalytic converter. Replacing this with a high flow 100cpi (cells per square inch) will free up the exhaust and has been proven enough to make290-330rwkw's(Obviously a full exhaust would be better but that's later on)
Inter-cooler Piping
The FG intercooler piping is of a much better design then the old B series layout however there is a down side, it's been commonly known to pop or crack once boost level is raised even slightly. Unfortunately this means you pretty much need to replace it straight away with stronger alloy piping, last thing you want is a hose to blow after giving it a bootfull in the middle of nowhere leaving you stranded.
Currently there are a few companys making this alloy kit as a direct replacement of the factory pipes, Herrod, Coolerworks and Plazmaman to name a few. Should cost between $400-$600 for a kit.
Full Inter-Cooler Kit
The factory intercooler may be able to make 290-330rwkw but it will be at it's limit and starting to suffer from heat soak after multiple dyno runs or lots 'spirited driving', loosing power and efficiency. If your happy to splash a little more cash at this stage it would be a good idea to upgrade to a bigger intercooler and piping kit. These can range from $1500 (entry level) up to $3000+ (full high flow race level). There are some quality kit manufactures for the FG XR6 Turbo including Process West, Rapid Systems, Plazmaman, HDI and PWR.
With the all the Red mods completed you should be able to have your car tuned to around the 290-310rwkw mark, with the blue mods completed too you should safely make the 310-330 mark or maybe even a bit more.
Good Luck